Soudeh and me decided to travel to small towns in relatively close proximity to Montreal (say, up to 100 km away). Eastern Townships, Montreal West and other gorgeous locations... This Sunday we visited the city of Bromont, which is 85 km away from Montreal and just about 12-15 km further than Granby. This is my report with pictures.
After heavy breakfast we set our course East on Highway 10. It was just after 12 in the afternoon, and traffic, for some unknown reason, was unexpectedly huge (in the area of Bridge Champlaint). In spite of that, 45 minutes later we were in Bromont.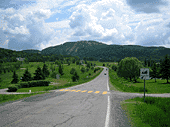 Bromont is a ski/golf resort well known to Montrealers and Quebec residents. It only has 2-3 main roads that connect with other small cities, but it is rich with hotels, bed and breakfast, spa treatments, places as well as restaurants of local importance. With a population of 5,000, the city is well advanced due to high tourism. High Speed Internet is found everywhere, the hotels are well equipped, plenty of business happening everywhere (museums, chocolate plant and even their own airport). It also has what they call an Industrial Park, which is a zone where all hi-tech companies have their plants and offices. Among them are General Electric, IBM, and other Silicon Valley giants. We tried to trespass into IBM and steal a couple of laptops, but the building was closed, even though you could tell hundreds of employees were at work on Sunday (!!!).
Anyways, upon arrival, we drove through couple of streets just to familiarize ourselves with the neighborhood. You don't see expensive cars around. I think our X5 was the only one in town. I saw a few Benzs though. Due to extensive preliminary research that I've done, I already knew what was good and not, so we went to have a couple of drinks in a 4-,5 star hotel Chateau Bromont. The road leading to the hotel was in between two gold courses - the scenery is mind-blowing!!
The hotel was not that fancy, however, neat, superbly clean and with friendly staff who didn't speak a word of English (these are hardcore Quebecois).
We were nervous whether we would be canned from the hotel since we are not staying there. Instead, this resulted to be the best, most memorable and most peaceful place to be. After we purchased $2.38 CDN worth of soft drinks, we sat by the outside hotel pool and studied the city entertainment maps that we got at the city entrance in an information center for tourists. No one bothered us at all (you don't really see hotel staff anywhere!). We could have easily swam if we had swimsuits with us. Who knew damn it!!
An hour later we relocated to the gorgeous and busy-free hotel terrace with a fantastic view of the golf courses and ski trails (mountains). We occupied great sofas right on the corner and melted... it was soooo good! Peaceful, no one bothers us for anything, we just sit there and enjoy pure mountain oxygen on a sunny +28C afternoon. Nothing beats the spot. See for yourself:
The next 2 hours flew by without notice. We decided to take off, see local attractions, not without a promise to God to return in a few hours to watch the sunset and have another drink (non-alcoholic).
The local airport was awesome. First of all, this is no International airport, however, traffic does exists. Mostly from rich people flying in Bromont on private planes, tourists flying out to check out the half-hour aerial view of the city for only $90 (with a maximum of 3 people on board at a time, so its like $30 per person) and just locals flying around for fun to waste gas.
The airport has its own customs for those arriving mostly from USA (states Vermont, Maine). Without a problem we went straight through the "restricted areas" to the field without anyone stopping us. In fact, they were so friendly they let us take pictures by their planes. We couldn't refuse the invitation.
It was then 4 pm. Passing through the industrial park (local Silicon Valley), we went to a nearby city Granby to eat. It was only 10 km away, plus worth a ride through their central Principal Road to have a choice of way better restaurants one would find in Bromont.
Our choice stopped on a Chinese all-you-can-eat buffet "La Maison Wong". Weekend all-you-can-eat price was comparably higher than their weekday one. $14.95 against $10.95. Nevermind, we were hungry. In brief, they had over 80 choices of food, none of which was really good. I give it 2 out of 5 stars. The place was getting real busy at around 5 pm, however.
With fun memories we headed back to Bromont through city streets instead of taking highway. This area is evidently filled with aviation-lovers. On a side road we suddenly see miniature airport for mechanical (gas-powered) remotely-controlled airplanes. Good weather brought together 3 groups of local Quebecois to send their planes into air. Mature men, at least 35 years of age, are watching toy planes fly. We had to stop and have our share of fun.
On the way back to our hotel terrace spot, still praying to God no one takes the spots before our asses get there, we took a ride on top of Bromont mountain to see how residents take charge of their daily routines. The houses are not spectacular, although Soudeh really liked them. The higher you go, the better the view, the better the real estate properties, the more expensive cars are parked by small mansions.
We got to the terrace in perfect time - 6 pm. With two cups of tea for another $5, we mounted ourselves the seating area to stare at Quebec sun going to sleep. The terrace was calm and peaceful. It was really classy and romantic.
Oxygen and overall excitement of the day made us sleepy, so we considered taking an 8-hour nap and continue with the sunrise. However, paying for the room was not an option and mosquitoes already figured out best routes to our seating location on that terrace.
So we hit the road with perfect road conditions and in just over half an hour were home.
It was 11:30 night time in Montreal and 7:30 am in the morning in Moscow. Our Quebec sun was already greeting you on the other side of the planet.
Next weekend stop - Magog city: golf, forest, vineyards and horseback riding.
Artashes
PS: I never thought one-day travel could be so amazingly relaxing!